お知らせ

INFORMATION
Raizan Hotel information
- Raizan North and Raizan South are in the same building It used to be managed seperately, but now both have the same front desk
- Room size, equipment and services are all the same
- In order to accommodate groups or people extending their stay, we might change the room from Raizan North to Raizan South or the other way around. (We won´t change the room type). We ask for your cooperation.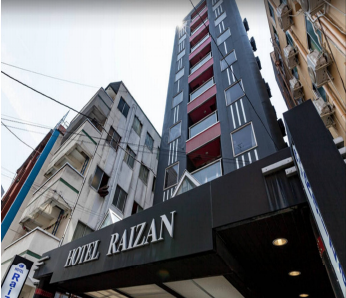 GUIDE
Check in & Check out time
Check in 2PM~1AM
Check out:11AM
About cancel and changing
Cancellation on the day: 100%
Cancellation on the before one day or two days:50%
We have free luggage space in lobby
Using leaving space for free even before check in and after check out
About child guest
About the child guest fees on the twin rooms

※Over 12 years: Adult fare
From 6 to 11years old: Child rates
Under 5 years old: For free(※If u needed the sleeping facility for the child,we would charge you the adult price per child
※All single rooms are adult rates
Information about car parking
Phone reservationin advance system (¥1,000 / night)
If the parking space was full,please use affiliated parking or coinparking(Rate separately)
※ Please tell the size of the car (light · small car etc) when you will make a reservation
Another service
Monthly service

Reception is only via e-mail
We can not accept the refund

Laundromat

four of washing machines and dryers are installed
Detergents is sold at the receptionist
ACCESS
〒557-0002 1-3-3 Taishi Nishinari-ku Osaka city